STM32F103CBT6 I/O pin assignments
Capture all the connectivity and I/O pin resource assignment here for the STM32F103CBT6 "Maple Mini" clone board.
Construction will be hand-wired on a small perf board, and a cable will be constructed between the board with the Maple Mini clone and the SPI TFT LCD display mounted on the front of the DMM.
Note that 3 of the status signals that monitor the position of the "function" switches are connected to non-5v tolerant inputs. These signals are pulled low by the switches and seem to rely on the internal pull-ups of the 3870 CPU to pull them high otherwise. Just to be safe, a 22K resistor is connected in series to limit the current.
| Maple Mini Pin# | Ardunio Pin | STM32 Func | 5v? | Signal | 3870 Pin |
| --- | --- | --- | --- | --- | --- |
| 1 | Power | | | +5V power into to 3.3V regulator | |
| 2 | D0 | PB11 (SDA2/RX3) | Yes | fluke st4 | 11 |
| 3 | D1 | PB10 (SCL2/TX3) | Yes | fluke func_d | 17 |
| 4 | D2 | PB2 (BOOT1) | Yes | fluke dp | 22 |
| 5 | D3 | PB0 | | LCD D/C | |
| 6 | D4 | PA7 (MOSI1) | | LCD MOSI | |
| 7 | D5 | PA6 (MISO1) | | LCD MISO (not presently used; only SPI Master to Slave data sent) | |
| 8 | D6 | PA5 (SCK1) | | LCD SCLK | |
| 9 | D7 | PA4 (NSS1) | | LCD CS | |
| 10 | D8 | PA3 (RX2) | | (reserved for alternate serial I/O) | |
| 11 | D9 | PA2 (TX2) | | (reserved for alternate serial I/O) | |
| 12 | D10 | PA1 | | | |
| 13 | D11 | PA0 | | (reserved SPI CS for 7-segment LED debugging display) | |
| 14 | Reset | | | | |
| 15 | D12 | PC15 | | fluke func_c (through 22K resistor) | 19 |
| 16 | D13 | PC14 | | fluke func_b (through 22K resistor) | 6 |
| 17 | D14 | PC13 | | fluke func_a (through 22K resistor) | 18 |
| 18 | VBat | | | | |
| 19 | AV- / GND | | | | |
| 20 | AV+ / Vcc | | | | |
| 21 | Vcc | | | | |
| 22 | GND | | | | |
| 23 | D32/Button | PB8 | | | |
| 24 | D15 | PB7 (SDA1) | Yes | fluke w | 34 |
| 25 | D16 | PB6 (SCL1) | Yes | fluke x | 35 |
| 26 | D17 | PB5 | | | |
| 27 | D18 | PB4 | Yes | fluke y | 36 |
| 28 | D19 | PB3 | Yes | fluke z | 37 |
| 29 | D20 | PA15 | Yes | fluke rng_a | 3 |
| 30 | D21 | PA14 | Yes | fluke rng_b | 4 |
| 31 | D22 | PA13 | Yes | fluke rng_c | 5 |
| 32 | D23 | PA12 (USB+/RTS1) | Yes | (unusable) | |
| 33 | D24 | PA11 (USB-/CTS1) | Yes | (unusable) | |
| 34 | D25 | PA10 (RX1) | Yes | (console) | |
| 35 | D26 | PA9 (TX1) | Yes | (console) | |
| 36 | D27 | PA8 (CK1) | Yes | fluke func_hv | 23 |
| 37 | D28 | PB15 (MOSI2) | Yes | fluke st0 | 15 |
| 38 | D29 | PB14 (MOSI2) | Yes | fluke st1 | 14 |
| 39 | D30 | PB13 (SCK2) | Yes | fluke st2 | 13 |
| 40 | D31 | PB12 (NSS2) | Yes | fluke st3 | 12 |
| | | | | | |
| | D33 | PB1 (LED) | | | |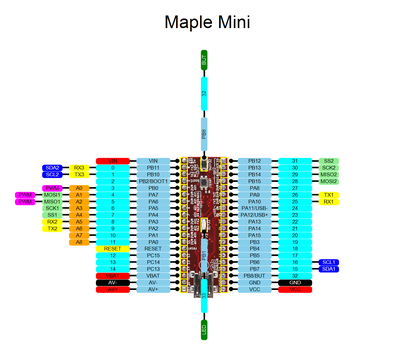 Maple Mini Pins